QC-Concrete
Quality Control - Concrete
Concrete • Mortar • Grout • Block • Cylinders • Beams • Cubes • Prisms • Cores
Cement Products Test Reporting
Cast and Cored Cylinders
Cast and Sawed Beams
Mortar Cubes & Cylinders
Grout Cubes, Prisms & Cylinders
Masonry Block and Block Prisms
Soil Cement & Shotcrete
Splitting Tensile Strength
ASTM C31, C39, C42, C78, C109, C140, C293, C496, C780, C942, C1019, C1116, C1107, C1314 and C4832
AASHTO T22, T23, T24, T97, T106, and T177
CCRL compliant reporting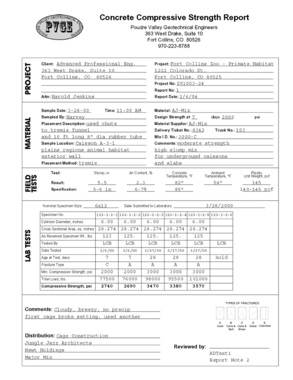 Get a Demo
The GEOSYSTEM Quality Control - Concrete (QC-Concrete) program maintains strength and property testing data on cement products, including concrete cylinders and beams, and mortar and grout cubes. It delivers client submittal and in-house tracking reports and lets you print lists of all specimens to be broken on a given day. Reports comply with all applicable ASTM and AASHTO reporting requirements.
---
Supported tests: Cylinders, center point beams, third point beams, cores, mortar cubes, grout cubes, prisms and cylinders, sawed beams, mortar cubes and cylinders, masonry block, and masonry block prism
The program can calculate area, strength, percent of required strength, and other specimen parameters
Files can be imported from Forney, TestMark, ELE, Admet and AMTD break machines
In addition to daily break reports, the software generates lists of samples to be tested on a given day and historical summaries of tests performed on a per-project or per-mix basis, as well as mailing labels
All reports can be be exported as .PDF (Adobe Acrobat) files
More than 50 configuration options allow you set the program up to work the way you do
Tab-delimited test data files can be exported for further analysis in spreadsheets (sample)
QC-Concrete is site licensed. One license fee covers unlimited installations at a single address and there are no ongoing maintenance costs.
---