Proctor
Proctor
Moisture-Density (Proctor) Test Reporting
ASTM D698
ASTM D1557
ASTM D4718
AASHTO T 99
AASHTO T 180
AASHTO T 224
California Test 216
Proctor reduces and reports data from moisture-density (compaction) tests. The software's calculations are compliant with ASTM D698, ASTM D1557 and ASTM D4718 standards, AASHTO T 99, AASHTO T 180 and T 224 and California Test Method 216. Features include one-point test curve matching (including some support for AASHTO T 272), a table of user defined test specifications, rock correction options and an interface to the GEOSYSTEM Quality Control for Density Test module
If you're running other geotechnical laboratory tests in addition to Proctors, be sure to check out one of our soil testing suites:
All of the capabilities of CLSuite, plus Proctor (moisture-density) test support
Our full suite of geotechnical lab. test programs
Proctor Test Features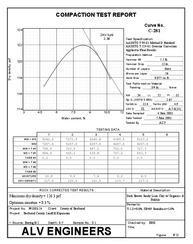 Moisture-density test standards: ASTM D698 • ASTM D1557 • ASTM D4718 • AASHTO T 99 • AASHTO T 180 • AASHTO T 224 • California Test Method 216 • User-Defined + State DOT Standards
Optimum moisture and maximum dry density results are automatically calculated from the mathematically-modeled moisture vs. density curve
Results can be automatically corrected for the presence of oversize (rock) material
Oversize correction supports the coarse/fine mass ratio oversize percentage determination per D4718
User-defined test specification table allows you to add support for DOT-specific blows/layers/mold diameter requirements
When matched with curves form multi-point tests on similar soils, moisture-density curves may be synthesized from one-point Proctor tests
Container weight database: The software can be set up to keep a list of IDs and weights for moisture content containers
Selectively omit compaction test points from the moisture-density curve
Moisture-density test results rounding are selectable on a per-test specification basis (e.g., ASTM D 698 requires rounding the maximum dry density and optimum moisture content to the nearest 0.1, while D 1557 requires rounding to the nearest 0.5)
Selectable chart scales
All GEOSYSTEM programs are site licensed. One license fee covers unlimited installations at a single address and there are no ongoing maintenance costs.