LabSuite
LabSuite reduces and reports data from sieve and hydrometer, Atterberg limits and Proctor (moisture-density) tests and automatically classifies soils via USCS, AASHTO, USDA, Burmister and DOT-specific methods.
Reports can be exported to .PDF files
Raw testing data can be exported to XML files which can be imported into Excel
The software features both submittal-quality chart reports and textural reports listing raw testing data.
Multiple report chart report formats are available for reporting particle size, Proctor and Atterberg test results.
Calculated results (e.g., percent gravel, sand, silt and clay, LL, PL and PI and USCS soil classification) are available for inclusion on LOGDRAFT boring log reports.
LabSuite is site licensed. One license fee covers unlimited installations at a single address and there are no ongoing maintenance costs.
Particle Size Distribution Features
Video Tutorials
LabSuite supports both sieve and hydrometer tests.
Sieve and hydrometer test standards

ASTM C136 • ASTM D1140 • ASTM D6913 • ASTM D7928 • AASHTO T 11 • AASHTO T 27 • AASHTO T 88 • AASHTO T 311 • ASTM D422 (standard retired, but still supported) • State DOT Standards • Australian Standard 1141.11

Sieve tests

Sieve tests can utilize multiple sample splits
"Sieve nest" lists simplify data entry by pre-filling in the list of sieves used for a test

Material specifications

The software can check for sample conformance with up to three material specifications
Specifications are stored in a program-maintained database for reuse on subsequent tests

Calculated results

A composite particle size distribution curve is built from sieve and hydrometer tests performed on a single split sample
Fractional percentages (e.g., percent gravel, coarse, medium and fine sand, etc.) are calculated and reported. Percentages can be calculated using the particle size divisions specified by ASTM, AASHTO, Burmister, Wentworth, CanSIS, BS 5930 and others.
Diameters at various retained percentages (e.g., D10, D30, D60), coefficients of concavity and uniformity (Cc and Cu) fineness modulus results are automatically calculated from the particle size distribution curve

Reporting

Curves may be plotted on semi-log, Wentworth (Phi), .45 power, log(size) vs. probability or linearly-scaled charts
Charts can also include specification envelopes or specification bars indicating conformance to user-entered specifications
Atterberg Limits and Soil Classification
Atterberg standards: ASTM D4318 • AASHTO T 89 • AASHTO T 90 • Australian Standard 1289.3.1.1, 1289.3.2.1 and 1289.3.3.1
Index values (Atterberg liquid and plastic limit, plasticity and liquidity index) are automatically calculated from raw moisture content data and blow counts
One-point liquid limits are supported
Natural moisture contents are calculated via ASTM D2216
Using particle size and Atterberg data the program can automatically classify soils using a number of different methods, including USCS (ASTM D 2487) AASHTO M 145 (aka ASTM D3282), USDA, Burmister and AS 1726.

Additional DOT-specific classification systems are freely downloadable from our website/
USDA textural triangle reports can be generated
Proctor Test Features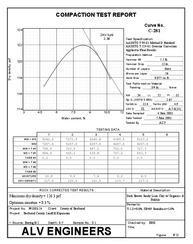 Moisture-density test standards: ASTM D698 • ASTM D1557 • ASTM D4718 • AASHTO T 99 • AASHTO T 180 • AASHTO T 224 • California Test Method 216 • User-Defined + State DOT Standards
Optimum moisture and maximum dry density results are automatically calculated from the mathematically-modeled moisture vs. density curve
Results can be automatically corrected for the presence of oversize (rock) material
Oversize correction supports the coarse/fine mass ratio oversize percentage determination per D4718
User-defined test specification table allows you to add support for DOT-specific blows/layers/mold diameter requirements
When matched with curves form multi-point tests on similar soils, moisture-density curves may be synthesized from one-point Proctor tests
Container weight database: The software can be set up to keep a list of IDs and weights for moisture content containers
Selectively omit compaction test points from the moisture-density curve
Moisture-density test results rounding are selectable on a per-test specification basis (e.g., ASTM D 698 requires rounding the maximum dry density and optimum moisture content to the nearest 0.1, while D 1557 requires rounding to the nearest 0.5)
Selectable chart scales
"Quick Test" Features
LabSuite pulls together data for a number of "quick" soil tests onto one screen:
ASTM D2216 (moisture content)
ASTM D854 (soil specific gravity)
ASTM D2974 (organics via ignition)
ASTM C127 (coarse aggregate specific gravity and absorption)
ASTM C128 (fine aggregate specific gravity and absorption)
Learn more about LabSuite...